In 1972 my wife and I were expecting our first child. We were pastoring a very small church, and we were struggling financially. We had gone days without food, and my wife was eight months pregnant! We went to a conference at Christ for the Nations Institute in Dallas, Texas, and heard a man speak about how it was God's will for us to prosper financially. This was new to me and we certainly needed it. We soaked up every word.
After the meeting we went to the product table and saw teaching materials that could have saved us a lot of hard knocks. I was so disappointed, because we didn't have any money. I knew those truths could change our lives; yet we couldn't get them. Then I looked at Jamie. She was great with child and hungry (both spiritually and physically), and she had a tear in her eye because we couldn't get the help we so desperately needed.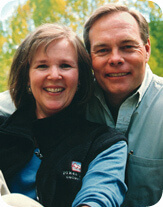 Right then, in my heart, I told the Lord that if He ever showed me something in His Word that could help other people, I would never deny them access to it because of their lack of finances. I had no idea that when I said that, I would put out teaching materials someday. But about eight years later, when people started asking for my teachings on cassette, I gladly supplied them free of charge.
We began making our materials available to people free of charge in 1978. Since then, I distributed well over 6,000,000 cassettes, CDs, DVDs, videos, and books. Over the years, I've grown to ask people to support this ministry if they can, but we still supply about 50 percent of all our materials to people who don't contribute financially.
When we put our materials on the internet, my staff asked if I was going to continue my policy of making the materials available free of charge to those who need them. I thought about it. There is a lot of expense to developing and maintaining a website. I didn't see anyone else providing free product downloads. But as I prayed about it, I felt like the Lord told me He would take care of me just as He has since we started airing on radio and television and ministering through other outreaches over the last three decades.
Virtually everything the Lord has shown me and led me to teach is available to you as free downloads on this website. We now have over 18,000 daily visits to our website, and over 400,000 MP3s are downloaded per month. We've had wonderful testimonies of how the Lord has used these free materials to literally save lives.
One couple in England had been told by the doctors that their three-year-old daughter couldn't live more than a few weeks. The parents found our website, and in two weeks' time, went on a crash course through the Word of God. Through the website, they also found out that I would be in their country, and they came for prayer. I prayed for their daughter, Hannah, and the Lord miraculously healed her. But it was really the faith of the parents that produced the miracle – the faith they got through listening to the free downloads on this website.
The night that Hannah was healed, Ashley, the dad told the congregation the story of their miracle and made a major point of thanking the people who were partners with me, that it was their giving that enabled me to make all these teachings available for free. With tears in his eyes, he said, "If you hadn't given so that Andrew could put these teachings on his website as free downloads, my daughter would be dead." I was in tears, as was nearly everyone at the meeting.
It is the sincere desire of Jamie and me to give everything the Lord has given us to help you receive all the Lord has made available to you. If you would like to help us keep this free ministry reaching out to those in need, you are welcome to join with us financially.
Visit our Partnership area to help us on a monthy basis or our donation page for a one time gift.
We love you,